ALS 200.3 Laser for scribing, drilling and cutting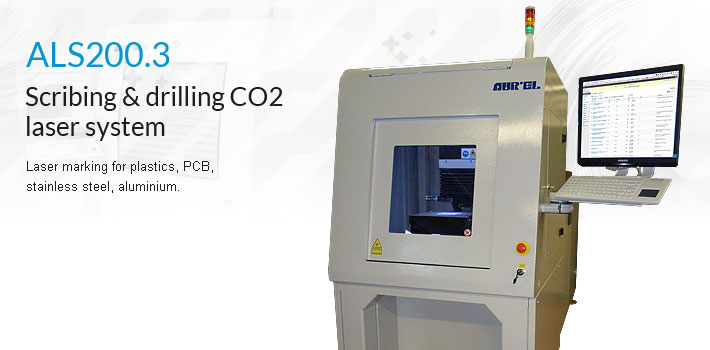 The AUREL ALS200.3 Laser System has been designed for scribing, drilling and cutting of ceramic substrates for thin film and thick film hybrid circuits.
The system is compact, reliable, safe and easy to use. This is the result of the technical collaboration between AUREL and EL.EN, two companies with many years of experience in the production of YAG and CO2 laser generators & systems for electronic.
The ALS200.3 consists of a completely closed cabinet containing a semi-sealed RF excited CO2 laser source, an high precision XY table with linear motors, and the electronic control.
The LASER SOURCE, mounted on a frame with a granite plane to ensure high output power stability, joins the advantages of the RF excitement technology ( high peak power, high frequency modulation, compactness ) with the incredible advantages of virtually "no factory service" requirement of the self refilling solution. The small internal gas cartridge is extremely easy to change ( typically twice a year ) at extraordinary low cost. The unsurpassed stability of the laser power allows absolute consistency of the process parameters in the long term operations.
The laser output power is 350 watt nominal in continuous wave mode and can reach a peak power up to 1000 watt in pulsed mode. A built-in power meter allows to measure the output power.
The frequency and the pulse width are programmable and real-time controlled by the electronic control.
The OPTICAL HEAD contains the focusing group with 30 mm vertical adjustment (autofocus optional), Gas jet nozzle for lens protection and Exhaust hood for ceramic particles.
The X-Y POSITIONING TABLE. The beam is fix and the substrate is moved by a high accuracy table. The stroke is 200×200 mm and is driven by linear motors with optical linear encoders.
The chuck system accepts substrates up to 6″x6″.
The ELECTRONIC CONTROL is based on Windows PC with axes control card, menu program for cutting, drilling and scribing linear and circular interpolation. Digiatl I/O for controlling special automations and handlings optional.
The AUTOLOADERS. AUREL has designed several systems from stack to stack for blank substrates or from cassette to cassette for printed & fired substrates. Some solutions include shuttles with two or more magazines or multicassette system.
X-Y Table
X-Y Table
| | |
| --- | --- |
| Stroke | 200 x 200mm (*) |
| Speed | up to 200mm/sec |
| Resolution | 1 µm |
| Precision | 10 µm |
| Repeatability | ± 4 µm |
(*) Other strokes on request!
Dimensions
Dimensions
| | |
| --- | --- |
| Length | 3180 mm |
| Width | 950 mm (1362 with stack Autoloder) |
| Height | 1815 mm |
| Weight | Approx 700 kg |
­
Requirements
Requirements
Power
220 V – 50 Hz – 18 A
Gas mixture
CO2 : N2 : He, 10 : 2,5 : 87,5 (premixed) in gas bottles at 150 atm.
Consumption: <100 litres/hour
Compressed air
Pressure 3-5 atm. Consumption: 100 litre/min.
Exhaust
Flow rate approx. 3 m3/min.; 1500 mm H2O
Options
Options
Substrate holder with vacuum chamber
CCD TV camera, monitor with electronic cross-hair
PRS
Automatic loading and unloading systems
Download
Download