C1010B screen printer for high precision printing of single & multilayer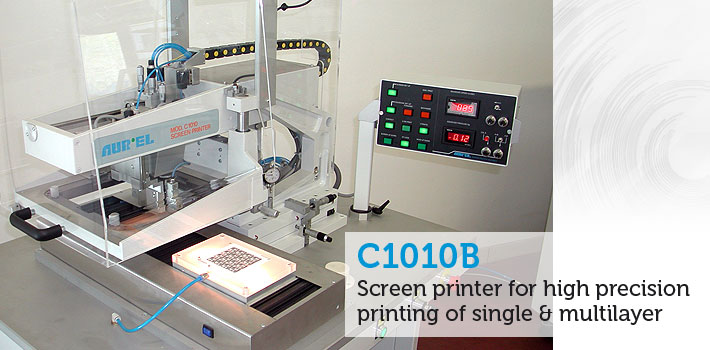 The AUREL AUTOMATION Model C1010B is an automatic screen printer for high precision printing of single and multi-layer, for Thick Film Hybrid Circuits, Solar Cells, Wafers, LCD Display, PCB, SMT, etc; on all type of substrate materials and using all known screen-printable pastes.
HEAD
Head
Intelligent head on precision slides, micrometric screws for centesimal adjustments of printing height and printing pressure.
High sensitive squeegee for fine line printing, low pressure, constant angle, no vibrations.
DC motor driven head allows accurate movement and precise speed adjustment in both directions.
Digital panel meters for printing speed and printing pressure reading.
Special twin strain gauge system for printing pressure and electronic adjustment of squeegee parallelism.
BASE
Base
Heavy bench for high stability mechanics.
High precision screen alignment, centesimal reading micrometers for of X Y Z and theta axes.
Machine cover and full operator's security.
WORKTABLE
Worktable
Lighted table for an easy substrate alignment.
Substrate hold down by vacuum, pump included.
Vacuum detector for substrate presence and chamber sensor.
Options
System for hole metallization
Substrate automatic centering
Special pin positioning system for very thin substrates
CONTROL
Control
Flexible electronic control on standard quality PLC. Automatic functions and commands:
Print and flood, alternate print, contact and off-contact print double print
Machine parts lifting and locking, setting-up and complete printing parameters control
DOWNLOAD
Download