OG500 Furnace for firing up to 600°C (Thick film, DSSC, Wafer, Glass)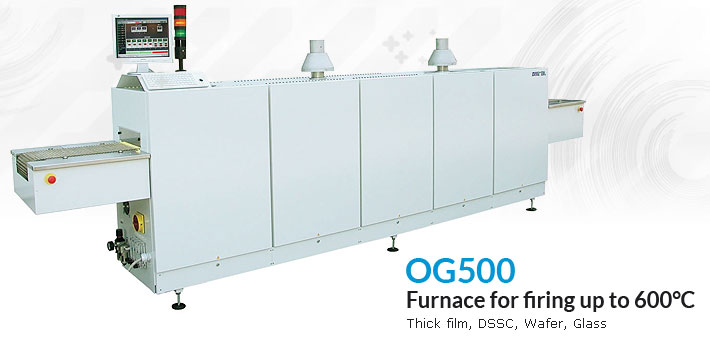 The Aurel OG500 furnace is designed for the firing of the thick film pastes used in high volume production of hybrids, solar cell, glass sealing, power device on aluminium or steel.
OG500 has a robust metal muffle with heaters on four sides for a precise 9 zones heating distribution and uniformity including the cooling section with air and water that allows a perfect temperature profile.
The extraction with Venturi system and the internal curtains ensure the evacuation of all burnout exhausts.
The thick layers of insulation and the smart computer control, limiting the load, save power the energy bill and the ambient.
Standard features
Conveyor type: Meshed belt stainless steel 304
Muffle in thick stainless steel 310
Heating with long life heating elements on top, bottom and sides
Conveyor system with electronic speed control 9 zones controlled by PC
Power solid state relays zero crossing
"Venturi" system with adjustable flow for controlled exhausts and input/output curtains
Options
Conveyor cleaning by water and ultrasonic system
Temperature profiler
Nitrogen or air atmosphere
Automatic loading and unloading systems for in-line systems
Download PDF (218 Kb)