Fine Line Thick Film Solutions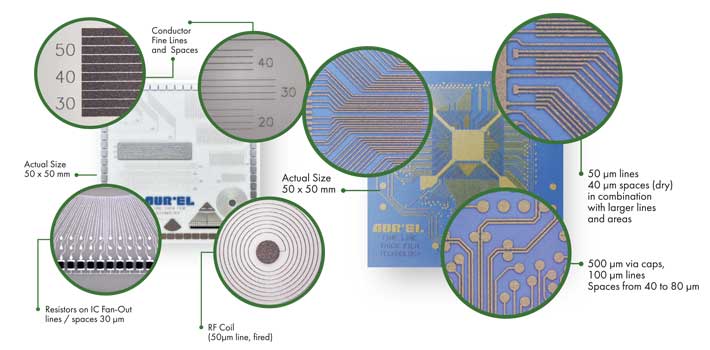 Inexpensive thick film process with fine line resolution starting from just 20µm offers the next level of integration in printed electronics and complements our traditional high density multilayer thick film circuits expertise.
50 years of experience in thick film and printed electronics allow us to render full project support from feasibility study and small scale production in AUREL Automation Division to automation of a customer's facility with proven equipment and tooling.
Fine Line and combined layouts are a cost-effective replacement of thin-film and solid-state design with applications that include RF and microwave modules, sensors, chip-components, MEMS, 3D-stack interposers and fan-out substrates for semiconductor elements.
FINE LINE PRINTING & EXPOSURE
Automatic Loader from Stack or Magazine
Precision Hybrid Screen Printer
Handler/Collocator
IR + Convection Dryer
Handler/Collocator
High Intensity UV Exposure
Automatic Unloader to Stack or Magazine
FINE LINE DEVELOPING & AOI
Automatic Loader from Stack or Magazine
Fine Line Water Spray Developer
Automatic Optical Inspection
Automatic Unloader to Stack or Magazine

Automatic Loader from Stack or Magazine
Precision Hybrid Screen Printer
Handler/Collocator
IR + Convection Dryer
Handler/Collocator
High Intensity UV Exposure
Automatic Unloader to Stack or Magazine
FINE LINE THICK FILM SOLUTIONS