Thickness Measurer – CS1222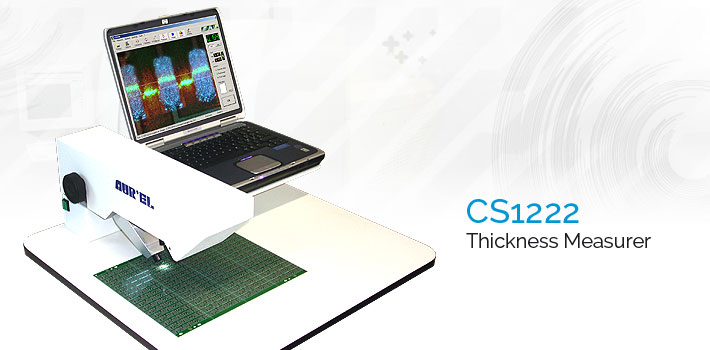 CS1222 is an instrument designed for measurement without contact of the solder paste thickness printed on PCB-SMT. Standard and Fine Pitch technology. The system can also be used to measure the thickness of stencils, substrates, emulsions, etc.
Is also possible to measure plane areas like etched pads on stencils, paste depositions, etc. The values of the measurements are displayed on the PC with 1 micron resolution. Both  measures  in  micron  or  mils  are  available.
The system is composed by the following parts:
Substrate holder table for PCB  dimension max. 500×500 mm;
Optical group head holder with vertical adjustment for image focusing;
Digital TV camera with magnified image of the interested area on  PC;
Precision lens and objective group for magnification and focusing of the image on the monitor;
Diode spot for lighting and pointer.
SPECIFICATIONS
Measuring datas with date, hour, product, batch, operator in text format for Word, Excel, etc…
Printing of image and datas in overlay;
Data storing for images and datas;
Network connection for printers or  server.
| | |
| --- | --- |
| Thickness measuring range | 50 ÷ 1000 micron |
| Width measuring range | 20 ÷ 2000 micron |
| Laser source | Laser diode 3 mW |
| Circuit height | MAX 30 mm |
| Overall dimension | 600 x 600 x 400 H mm |
| Power | 220V – 80W |
Download PDF
Thickness Measurer CS1222