Drying-Curing Ovens for thick film technology – A206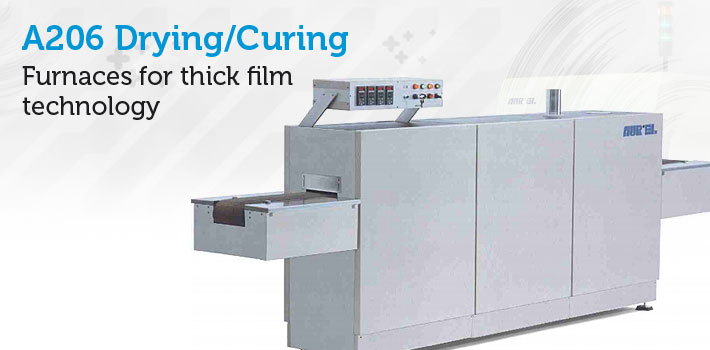 Furnaces for thick film technology: drying of thick film pastes and curing of polimeric pastes, adhesives, resins.
Prior to being submitted to be firing process, substrates with screened-on inks/pastes must be predryed to evaporate the solvents.
Hot air and IR heating are best heating method available by which thick film pastes can be properly dryed with optimum results: this is because infrared heat waves penetrate the material and dry the inside of the material first, then dry outwardly to the surface.
Convenction heat causes the outside of the paste to dry first forming a film through which it is difficult for the solvent within to pass.
The solvents actually become partially trapped and as they eventally are released cause cracks in the surface of the material. Consequently the surface is irregular, resulting in reduced conductivity or inconsistent resistivity.
The A206 drying ovens are designed to prevent the problems outlined. It's design criteria are based on extensive experience in thick film technology, to provide the user with a machine that assures optimum results.
Standard features
Conveyor types: meshed belt stainless steel silicon teflon/glass
Finger for double side printed substrate
Muffle in stainless steel
Conveyor system with electronic speed control
Conveyor types: meshed bel stainless steel
Heating with ceramic panels
50% convection type and 50% for IR
Muffle in stainless steel
Conveyor system with electronic speed control
4 zones controlled by PDPI digital thermoregulators
Power solid state relays zero crossing
"Venturi" system with adjustable flow for controlled exhaust
Options
UV Curing zone/s
Conveyor cleaning by water and ultrasonic system
Temperature profiler
UV Curing zone/s
Automatic loading and unloading systems
Download PDF
mod. A206 Drying-Curing