Laser systems for scribing, cutting of ceramic substrates – ALS 200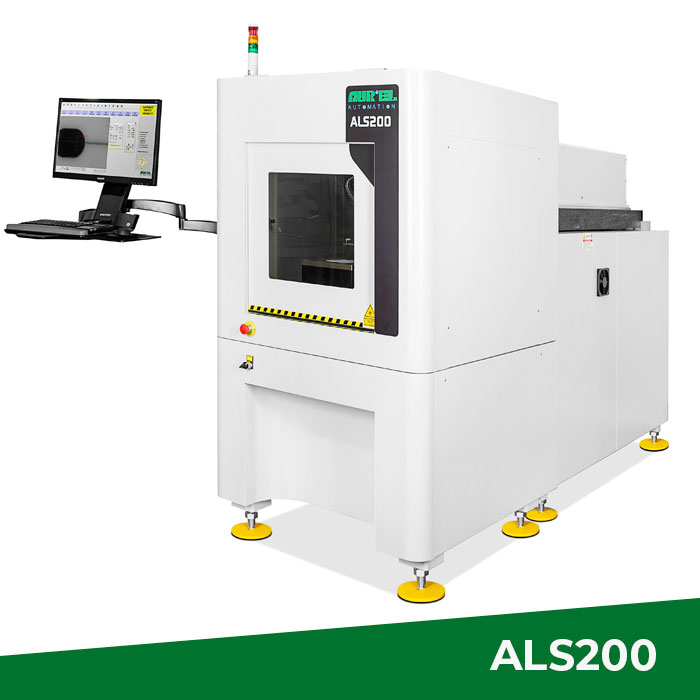 ALS200 is a very high accuracy laser system that is designed for scribing, drilling and cutting of ceramic substrates for thin and thick film hybrid circuits up to 6"x6" (typical Al2O3 and AlN).
The system is equipped with double nozzle for an e automatic switching: one for cutting and one for scribing. ALS200 lasers are offered as basic system (with manual loading/unloading) or with optional modules from/to stack or cassette magazine for high volume production.
Applications
Cutting
Scribing
Drilling
Control systems
The machine is PC controlled and allows a great deal of flexibility on all functions
Windows © Operating System
Wide screen monitor and industrial keyboard
Menù Program for cutting, drilling and scribing (linear and circular interpolation).
Machine diagnostic
Machine hood & lifting and locking safety switches
Work recipes and data logging
Head
One fixed head
Motorized focus to adjust the Z-axis according to the substrate thickness.
High resolution Camera for work area vision with cross-hair for manual alignment of the substrates
Laser source
High power semi-sealed CO2 Laser 350-1000W type RF333
Gas CO2 plasma tubes mounted on a frame with a granite plane to ensure high output power stability
RF excitement technology, high peak power, high frequency modulation, compactness
Factory service free with easy gas cartridge replacement
Frequency and pulse width programmable and real-time controlled by the electronic control
Other options
PRS Vision System for automatic substrate alignment
Water chiller (stand alone)
Exhaust aspiration and filtering
Automatic loading/unloading system from magazine for substrate  up to 6"x6", two stack magazines, one for loading, one for unloading
Specifications ALS200
FEATURES Laser generator
1440W x 1350L x 1700 H mm
Wave length
Rated Power
Peak Output power
Power stability (long term)
Mode quality
Pulse width range
Pulse frequency
Gas mix consumption
Heat dissipation
10.6 µm
350W (continuous mode)
850W
±4%
1.1 M2
2 ÷ 1.000 µs
Up to 50 KHz
< 24 Nl/year (cartridge)
5 kW max
X-Y TABLE
X-Y Linear drive work table
Optical linear encoders
Stroke
Speed
Resolution
Accuracy
Repeatability

Max substrate size
Max thickness (Al2O3)
Standard cutting speed
Standard scribing speed

–
–
300 x 300 mm
Up to 500 mm/s
0.1 µm
±5 µm
±4 µm

6"x6"
Up to 2 mm
4÷7 mm/s
100÷200 mm/s
Video ALS200
Download
Download PDF
AUREL ALS200