High precision screen printer – VS1520A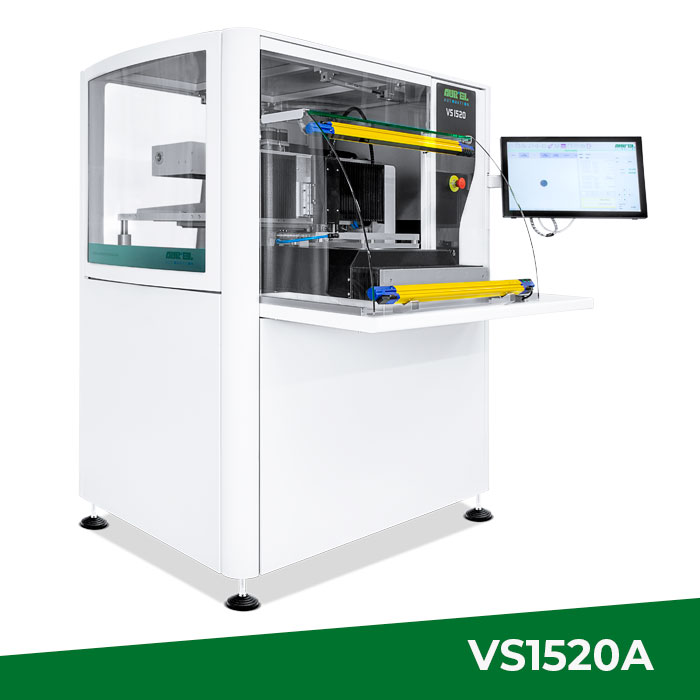 Aurel VS1520A uses highly advanced mechanical and electronic solution to guarantee superior quality in fine-line printing for multilayer hybrids circuits. The automatic vision system ensures resolution better than 2 microns.
All the machine's movements are motorized and programmable by S/W through an user friendly menù.
All the print parameters (pressure, speed, down stop, print gap) are programmable and storable in work recipes to grant the minimum setup time.
Applications
Aurel VS1520A is a free standing high precision screen printer with cabinet and security cover that can print area up to 400 x 300 mm, assuring uniform deposition from corner to corner.
Some applications for electronic and general industrial purposes are:
Thick film and polymer pastes
Multilayer Hybrids
Solder paste for SMT
Glues, adhesives, resins
Through holes metallization
Solder resist
Flexible foils, PET film, paper
Solar cells, semiconductors, glass, quartz
Polymeric pastes LTCC and Via Filling
Silver Sinter
Heaters on metal substrates
Control systems
The machine is PC controlled and allows a great deal of flexibility on all functions Windows © Operating System
Wide Touch screen monitor with user friendly interface
Print and flood, alternating print and after print delay
Programmable print parameters (printing stroke, pressure, print gap & down stop)
Machine diagnostic
Machine hood & lifting and locking safety switches
Work recipes and data logging
Head
The intelligent head on high precision slides represents the latest state-of-the-art design with motorized and programmable axes for fine teaching and adjustment of parameters.
High sensitive squeegee for fine-line printing, low pressure, constant angle, no vibration.
DC motor driven head allows smooth movement and precise speed & stroke adjustment in both directions.
Configurable head, single squeegee, double squeegee, squeegee and flood blade.
Motorized and programmable screen Z axis for screen height and slow snap-off function – very important for fine line printing.
Vision
The vision camera is mounted on a X axis with linear motor. The movement on this axis and the movement of the table in the Y-axis cover the complete substrate area.
This allows to look at the fiducial marks, the vias or a pad wherever they are placed on the substrate.
A special optic and IR lighting system is integrated in the TV-camera assembly. Room lighting or PCB colours no longer influence the reliability of the vision system.
The vision system is PC based with a very advanced software for easy teaching and automatic adjustment of all parameters and values.
Work table
High precision fast linear motors. Alignment on the X-Y and Theta axes between screen and substrate.
Substrate hold down by vacuum, Venturi ejector included. Vacuum detector for substrate presence and chamber sensor.
Easily exchange different fixtures according to the substrate size: acrylic or aluminium nest, micro porous stone, multi-holes chuck, universal table for PCBs.
Other options
Paste Reload Dispenser
PHM, Programmable Holes Metallization and VIA filling
Substrate cleaning via roller contact, air knife, ionizer bar
Led UV LAMP
Bar code reader
Pneumatic screen locking
PPI, Post Print Inspection
Climatization system
Automatic stencil cleaning (only for stencil)
Specifications VS1520A
FEATURES
Max print area
Max substrate size
Max Screen size
X-Y adjustment
Z adjustment (screen height)
Theta adjustment (rotation)
Print stroke
Squeegee speed
Squeegee pressure
Printing capacity
400 x 300 mm
450 x 350 mm
15″ x 20″ (option 21″ x 21″)
± 12 mm
± 10 mm
± 3°
50 ÷ 480 mm
0 ÷ 300 mm/sec
0 ÷ 16 Kg (more on request)
10 ÷15 sec + print time
ACCURACY
Table X axis resolution
Table Y axis resolution
Table theta axis resolution
Total system repeatability
Squeegee and screen parallel
Table X axis resolution
Table Y axis resolution
Table theta axis resolution
Total system repeatability
Squeegee and screen parallel
VISION SPECIFICATIONS
TV camera axis resolution (X1 axis)
Vision system repeatability
TV Camera field of view
Fiducial Dimensions
0.0001 mm
± 0.001 mm
Min. 2 x 1,5 – Max. 8 x 6 mm
Min. 0,2 x 0,2 -Max 3 x 3 mm
Dimensions & utilities
| | |
| --- | --- |
| Dimensions | 1440W x 1350L x 1700 H mm |
| Approx. weight | 700 Kg |
| Compressed air supply | 5 Ate – 50 Nl/min MIN |
| Power supply | 220V – 50 Hz – 10A |
Video VS1520A
Download PDF
Screen-Stencil Printer VS1520A Mark III