Ohmical laser trimming with galvo head – ALS300GM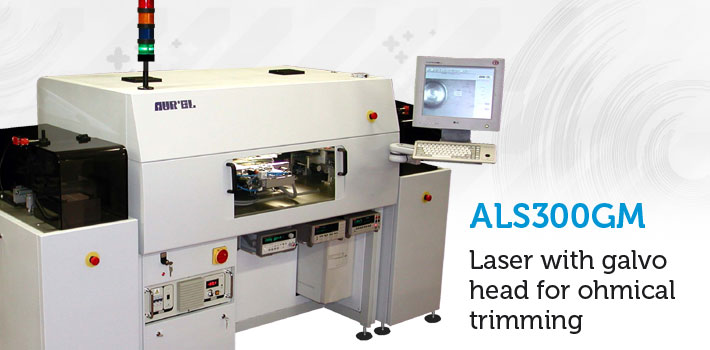 Laser with galvo head for ohmical trimming step & repeat table, automatic loading and unloading with magazines.
Laser trimmer for many different applications
With the ALS300GM AUREL we provide a versatile laser trimmer for many different applications.
The system can be used for active and passive trimming of hybrid circuits as well as for functional trimming of SMD circuits.
We really specialize in this field and have a lot of experience with trimming SMD circuits under functional conditions.
Most systems have to be custom tailored for handling and providing the phisical conditions for the sensors, like proximity, pressure, optical, temperature or other while trimmed with the laser beam.
Main applications: functional & ohmical trimming of thick film & thin film hybrid circuits, trimming of chip resistors (SMT PCB & Polymeric resistors), scribing/grooving of silicon wafer.
Features
Very large and open area for beam travelling
Powerful Nd-Yag Laser generator (65W multimode) or Nd-YVO4 diode pumped (12W cw)
Beam pulse and movement are synchronized for constant overlap and accurate low speed positioning
Accesible for functional trimming of one or multiple circuits on large PCB
All stages and optical components mounted overhead like a bridge allowing multiple choises for material handling
Manual or automatic loading, step & repeat, automatic indexing through the machine with magazin to magazin handling, integration into a production line
Trimming under sensor conditions (pressure, temperature, different environmental media, etc.)
Standard machine
External PC
Software Windows NT 8.1
I/O for handling system
TV camera vision
He-Ne Laser for beam alignment
Optics
Kerf width: 40 to 60 µm standard
Depth of focus: 1 to 3 mm
Vision with CCD TV-camera TTL and dichroic mirror
Magnification 30x
Electronic cross hair
Pattern recognition & CRS (Chip Recognition System)
Interfacing software for external instruments in RS 232 or IEEE 488
Focus programmability (Z axis)
15 to 25 µm (short focus) otional
Water chiller (only with lamp)
Exhaust aspiration for high volume trimming
Requirements
Utility Requirements
Electrical power
380V 3+N, 10A, 50Hz (LAMP) / 220V 1+N (DIODE)
Compressed air
5 ATE, 5 lt/min.
Tap water [laser cooling]
8 lt/min
Max Pressure
2 ATE
Dimensions
1500 x 960 x 1420 (± 20 mm H)
Max Temp.
25°C
Laser Beam
Precision X-Y movement by DC motors / Galvo head
Positioning and speed closed loop
Work area: 330 x 180 mm / 160 x 160 mm (with Galvo)
Resolution: 2.5 µm
Positioning speed: programmable up to 100 mm/s
Trimming speed: programmable up to 100 mm/s
Synchro beam movement with laser shot
Video Laser Trimming
Download PDF
ALS300GM Ohmical laser trimming