Full Automatic Screen Printing Line VS1520M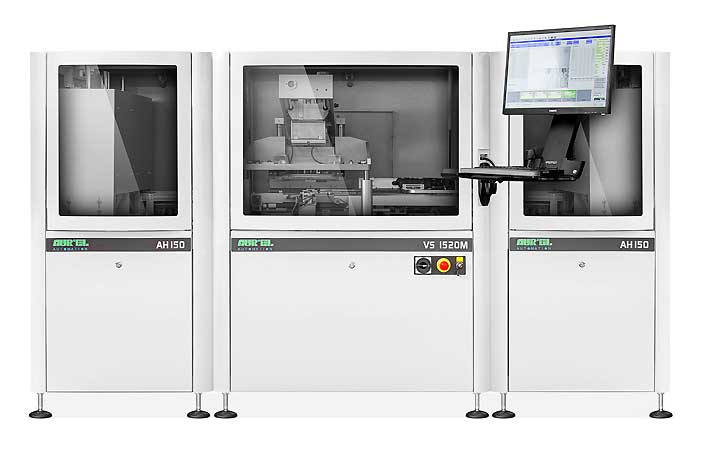 AUREL VS1520M is the full automatic screen printing version conceived with a modular approach that permits the customer to build up the line adding step-by-step additional modules according to the real production trend.
The basic configuration consists of a from cassette-to-cassette line with a high accuracy in-line screen printer platform VS with automatic vision system to grant the highest repeatability for multilayer circuits and throughput (up to 6 sec + print time).
APPLICATIONS
Some applications for electronic and general industrial purposes are:
Ceramic substrates
Roll-To-Roll line
Foil-To-Foil line
SOFCs
Parts on carriers
VISION
Vision system by double digital TV camera for top & bottom vision movable over the complete substrate area for perfect fine-line alignment.
CONTROL SYTEMS
The machine is PC controlled and allows a great deal of flexibility on all functions
Windows © Operating System
Wide Touch screen monitor with user friendly interface
Print and flood, alternating print and after print delay
Programmable print parameters (printing stroke, pressure, print gap & down stop)
Machine diagnostic
Machine hood & lifting and locking safety switches
Work recipes and data logging
HEAD
The new very intelligent head on high precision slides represents the latest state-of-the-art design with motorized and programmable axes for fine teaching and adjustment of parameters.
High sensitive squeegee for fine-line printing, low pressure, constant angle, no vibrations.
DC motor driven head allows smooth movement and precise speed & stroke adjustments in both directions.
Configurable head, single squeegee, double squeegee, squeegee and flood blade.
Motorized and programmable screen Z axis for screen height and slow print gap function – very important for fine line printing.
LOADER/UNLOADER
Aurel AH150C handler from cassette-to-cassette operation, with automatic shuttle and separated chambers to change an empty magazine without stopping the cycle.
Aurel AH150S handler from stack-to-stack operation with vacuum section cups.
Loader with Double system: AH150C and AH150S only for the first print of blank ceramic substrates.
OTHER OPTIONS
Paste Reload Dispenser
PHM, Programmable Holes Metallization and VIA filling
Substrate cleaning via roller contact, air knife, ionizer bar
Bar code reader
Pneumatic screen locking
PPI, Post Print Inspection
Climatization system
Automatic stencil cleaning (only for stencil)
Weighing Station (before & after Printing)
Robust In-line transport with motorized width adjustment from 2"x2" up to 5"x5" ceramic substrates
Download PDF
Full Automatic Screen Printing Line VS1520M